Waste collection
The MRC des Pays-d'en-Haut is responsible for the management of residual materials.
To consult the Residual Materials Management Plan (RMMP) of the MRC (french only)
The materials accepted, as detailed below, are provided for guidance only. In general, waste is a non-dangerous solid, other than the ones that should be placed in the recycling or composting bin or at the ecocentre.
Diapers
Tissue paper
Broken dishes
Rubber
Compact discs
Styrofoam
Regular light bulbs
Watering hose
Oxobiodegradable bags carrying the mention
EPICendres de foyerall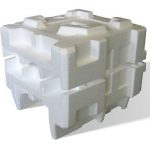 Perishables (other than food scrapings)
Sanitary napkins and tampons
Sweepings and vacuum bags
Rigid plastic or plastic that breaks (croissant boxes, frozen fruit and vegetables bags, cheese slices wrappings…)
Metallic wrapping papers (granola bar wrappings and bags of chips)
Unrecyclable toys without batteries
Non-reusable clothes and shoes
Pillows, sheets and covers
Incandescent light bulbs